REGIONAL LAND PARTNERSHIPS
Regional scale actions to support threatened species and threatened ecological communities, internationally recognised Ramsar wetlands, climate change and regional capacity.
Through a Regional Land Partnerships (RLP) investment of $11.8 million over five years from July 2018 to June 2023, South Coast NRM, together with 15 key delivery partners, are delivering on national priorities at a regional and local level. 
Projects are connecting efforts to protect and improve the status of priority listed threatened species, protecting and improving threatened ecological communities, reducing threats to our globally-important Ramsar wetlands, implementing works to improve on-farm soil, biodiversity and vegetation, and increasing the capacity of our farms to adapt to climate change and evolving market demands.
WHAT IS REGIONAL LAND PARTNERSHIPS DOING FOR THE SOUTH COAST
There are five key projects being delivered across the South Coast region. Click on the project below to find out more.
Climate Action: supporting the region to adapt, innovate, and meet food market demands for sustainable food production
Primary production (agriculture, fisheries and forestry) contributes strongly to the region's economy and social fabric but faces some significant threats if major efforts are not made to develop new innovative markets and manage more sustainable farming systems. The proposed project will assist local farmers and supporting agricultural stakeholders to adapt to changing market preferences and increase awareness and adaptability to respond to seasonal variation and extreme weather events. The project will protect marginal farm lands susceptible to climate change through controlling stock access and establishing deep rooted ground covers, provide training and capacity to farmers and aboriginal land managers and develop agri-business opportunities utilising traditional bush foods and develop a suite of management decision tools relating to climate across the agricultural sector.
Protecting Ramsar values through rehabilitation, restoration and reducing threats to the ecological character of Lake Warden and Lake Gore Ramsar Wetlands
The project will sustain and enhance the ecological character of both the Lake Warden and Lake Gore Ramsar Wetlands in Esperance Western Australia through addressing key threats identified in ecological character descriptions for both systems. The project will carry out works in farm lands and critical habitat in the catchment that surrounds the wetlands. The Ramsar wetlands is considered to be a major dry season refuge for waterbirds in south-western Australia including twenty five migratory waterbirds recognised under the international migratory bird agreements CAMBA, JAMBA, ROKAMBA and CMS that use these lakes as part of their annual migration. Activities include re-establishing native revegetation (direct seeding and seedlings), ground covers, stock exclusion, community awareness (events, workshops and training), monitoring (bird surveys, water quality, baseline and increased community understanding), Aboriginal engagement, woody weed control and feral animal control.
Regional Land Partnerships Core Services
Agreement for the delivery of services in the Western Australia – South Coast Management Unit as part of the Regional Land Partnerships Program. Delivery of Core Services for the South Coast Management Unit will:
1.     Maintain the currency of natural resource management planning and the prioritisation of management actions;
2.     Support the Community, including Landcare, Indigenous communities, and industry to participate in the delivery of Projects;
3.     Undertake communications;
4.     Coordinate delivery of Projects and MERI;
5.     Undertake Regional Agriculture Landcare Facilitator services referred to at clause 3.6 of the Statement of Work.
6.     On request by the Department, develop Project Designs and Project Proposals; and maintain a productive, cooperative and ongoing relationship with the Department.
Improving the status of 20/20 priority listed threatened species and protection of threatened species in the South Coast region
This project aims to improve the population trajectory, through recovering actions implementation for 3 mammals (Chuditch, Gilberts Potoroo and Western Ringtail possum), and 3 bird species (Western Ground Parrot, Australasian Bittern and Malleefowl) identified as priorities in the Threatened Species Strategy. Community groups and partner organisations will undertake recovering actions to improve and protect key EBPC habitats. This will include invasive species control, feral animal control, protection fencing, revegetation and supporting translocations. The impact of recovery actions will be measured through establishment of a community-based monitoring protocol and establishment of community-based monitoring sites for the 6 EPBC species. The project will also involve Aboriginal groups in the management of threatened species through undertaking of threatened species management plans, improving habitat and providing opportunities for on-country traditional knowledge sharing.
Protecting coastal corridors and improving Proteaceae dominated Kwongkan Shrubland and Temperate Coastal Saltmarsh
The project will improve management of 787 ha of high value Temperate Coastal Saltmarsh and Proteaceae Dominated Kwongkan Shrubland TEC's by better managing weeds, integrated pest animal control (rabbits, foxes and cats), reducing the spread of Phytophthora, revegetation and better managing access to private lands and reserves containing TECs. The project will prioritise the mitigation of key threatening processes to increase protection and improve management of the TEC's consistent with RLP program targets. Project activities will be implemented through partnerships with 6 community groups, 1 Aboriginal Native Title Group and Department of Biodiversity, Conservation and Attractions.
REGIONAL LAND PARTNERSHIPS ACHIEVEMENTS

 
At the 3.5-year point, project reporting data was used to create a snapshot of project achievements towards Southern Prospects aspirations. Southern Prospects, the South Coast Regional Strategy for Natural Resource Management, underpins our philosophy and operations.
A snapshot of program achievements as at 31 December 2021 is outlined below, click on the image for a larger display. 
Regional Land Partnership projects are located across the South Coast region, as marked in purple on the map.
South Coast Region Western Australia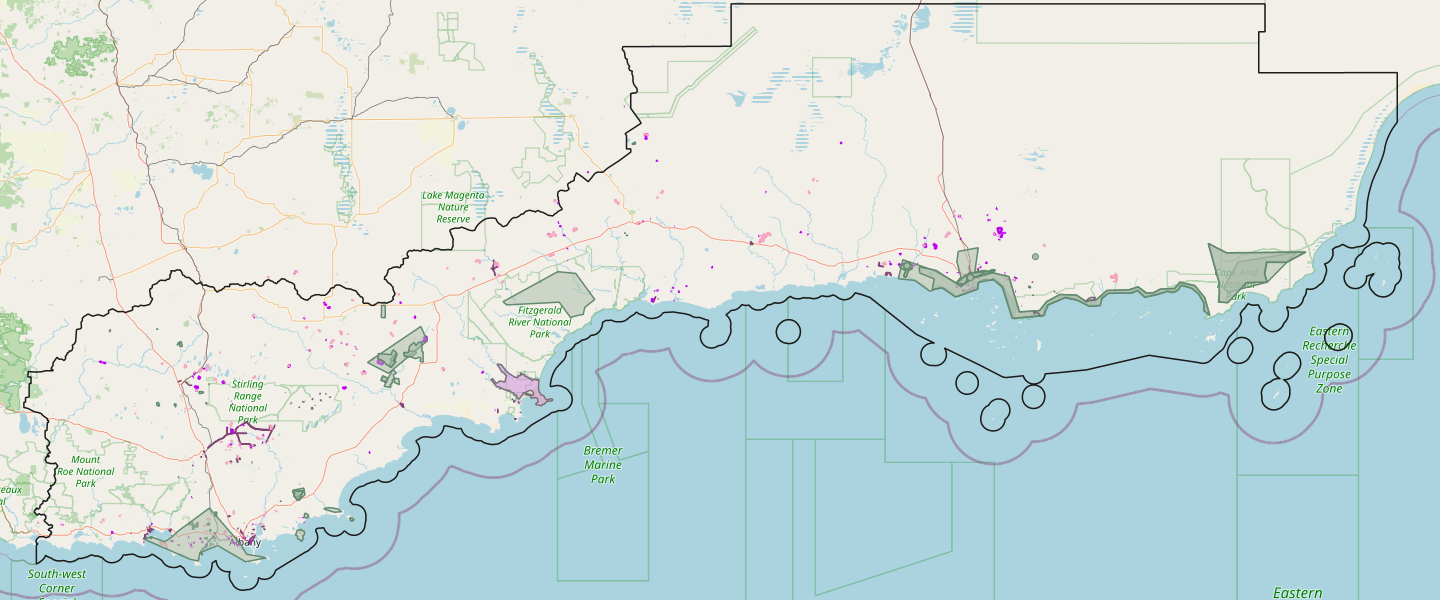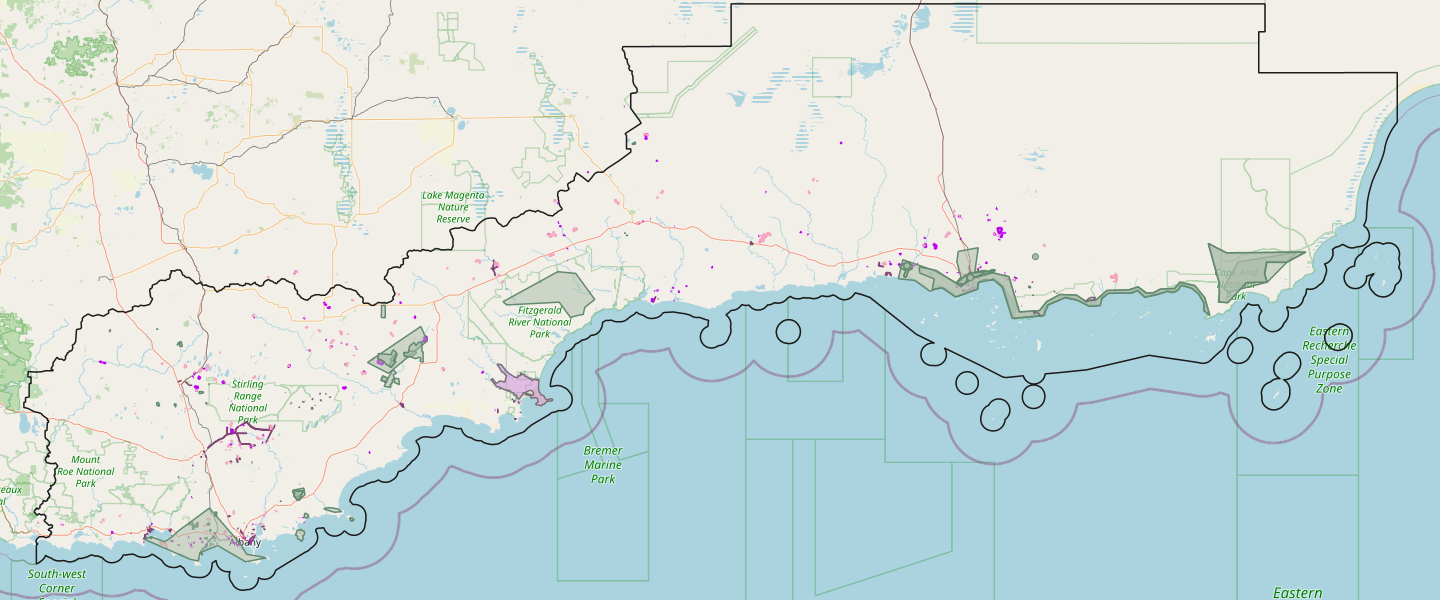 South Coast NRM are proudly working with the following key delivery partners.
This project is supported by South Coast NRM, through funding from the Australian Government's National Landcare Program.