From the desk of Karl, Project Officer Ballogup/ Lake Pleasant View. 
A partnership between Gnowangerup Aboriginal Corporation (GAC), local landholders, and South Coast NRM is helping the new Noongar owned seed nursery establish itself in a niche market. The newly developed seed nursery is making great progress and GAC will soon be establishing native seed banks on two properties close to Gnowangerup.  
In an exciting development for the establishing nursery, Gnowangerup Aboriginal Corporation has recently secured contracts to supply and plant seedlings grown from the nursery at sites on private land in the Shire. In addition, GAC has worked in partnership with three local landholders to plant over 2,400 seedlings to restore habitat, and the nursery has supplied native seedlings grown from provenance to North Stirling's Pallinup Natural Resources and will do so again in 2024.  
Benefits stemming from the success of the native tree nursery have been two-fold. The enterprise has improved the social well-being of community members and provided reconnection to Country through direct involvement and replanting of native species, as well as providing high quality, local provenance seedlings for the Great Southern region. The work has given local Noongars a sense of purpose and pride within their community, which is an important source of inspiration to others. The growing of seedlings and subsequent planting operations enable GAC to charge a fee for service and provide a much-needed source of income to GAC and its employees.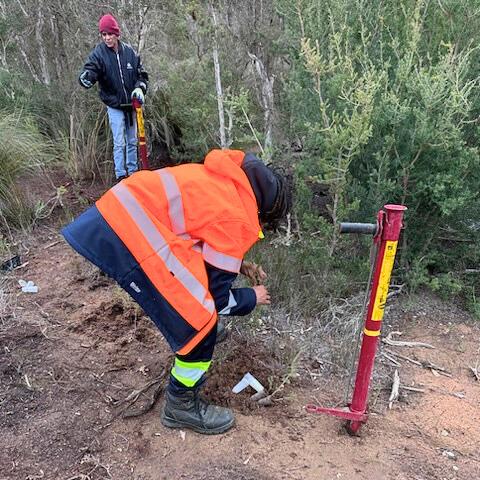 South Coast NRM has proudly supported the native seedling enterprise since its inception and more recently, facilitated mentoring sessions to increase the capacity of GAC employees and casuals by providing both on the job and accredited training. Five individuals are currently enjoying and learning new skills while studying a Certificate III Conservation and Ecosystem management at Albany TAFE.  
The future looks bright for this new business, and with good planning and partnerships, it will continue to grow from strength to strength.  
This project is part of the Seeds of the Great Southern, Regional Economic Development Grant, supported by Great Southern Development Corporation and Department of Primary Industries and Regional Development.