From the desk of Catherine, Project Officer South Coast EnviroExperiences.  
This NAIDOC Week we are celebrating "Our Elders", in recognition of the important role that Elders have played, and continue to play, and the prominent place they hold in Aboriginal and Torres Strait Islander communities and families. Elders are the custodians of all knowledges (kaartdijin), and in particular "special" knowledges which are to be passed on through generations. The recent Yorgas (womens) Camp, held on the Michael Tichbon Field Station in beautiful Red Moort Country, was the perfect base for Noongar Elders and women to spend valuable time together and share knoweledge while on Country.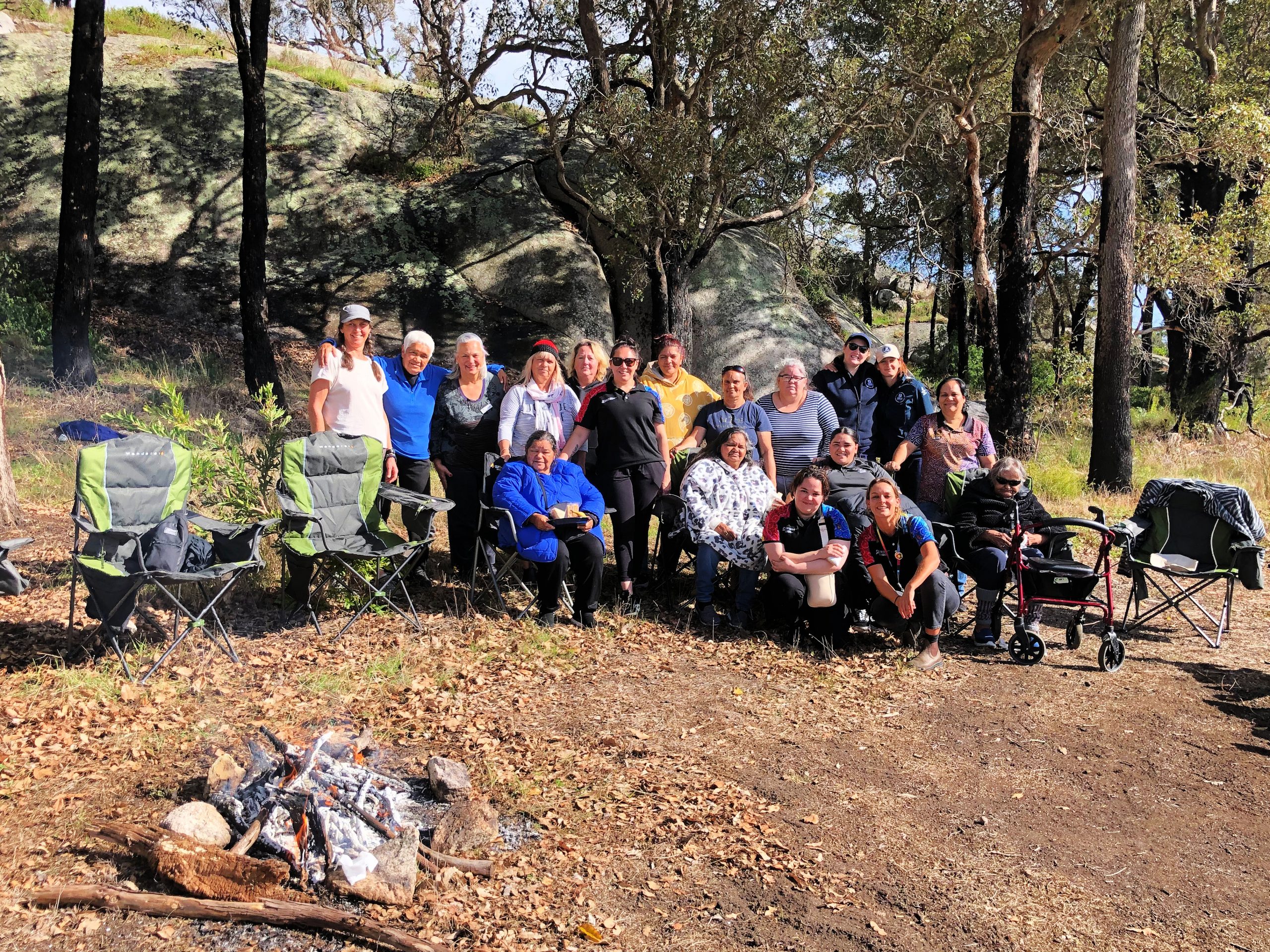 Menang Noongar Yorgas at Ballogup.
To make this event possible, the South Coast Enviro-Experiences project joined forces with Bush Heritage Australia, the Department of Biodiversity, Conservation and Attractions, Great Southern Aboriginal Health Services and Palmerston, to host the fun-packed three-day camp. The bush camp was an exciting opportunity to engage local Menang Noongar women away from town to connect to Country, each other and local support agencies, which has been proven invaluable for the women to heal and share their wisdom. 
The first stop on the Noongar Yorgas camp was Ballogup / Lake Pleasant View where the women were welcomed by local Noongar artist, Shandell Cummings who shared her knowledge of the highly significant cultural site. This was followed by an interesting talk by South Coast NRM's Regional Ecologist, Bronte Van Helden, on the western ringtail possum sightings around the site. Elder Olivia Roberts started off the lunchtime yarning sitting around a campfire overlooking the lake.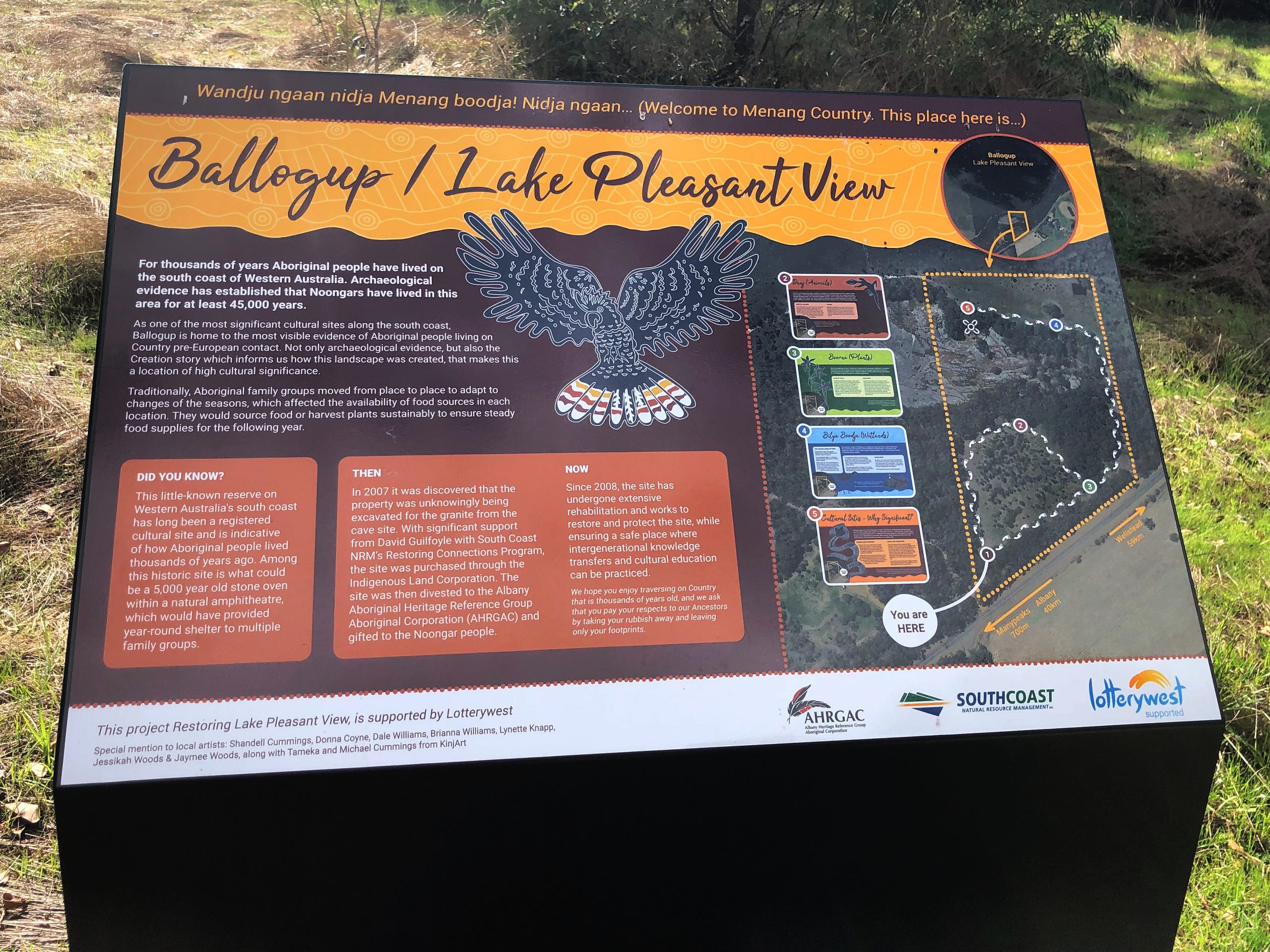 New signage at Ballogup / Lake Pleasant view by artist and local Noongar Shandell Cummings 
On the second day of the camp, we drove to Bremer Bay where women from Katanning, Kojonup, Tambellup and Gnowangerup Aboriginal groups and support agencies joined us at Main Beach for a smoking ceremony and knowledge sharing. From there we continued onto Blossom's Beach for a walk and beach clean-up activity.  A warm cup of soup and a yarn, at Tozer's Camp, on the edge of the beautiful Fitzgerald National Park was a welcoming end to the day. 
On the last day of the camp we drove to neighbouring Nowanup Boodja, a place for healing, under the stewardship of local Elder Eugene Eades.  We sat around an open fire under the branches of the newly built meeting place which Eugene calls 'the surgery' and shared stories. At Red Moort Reserve everyone shared in healthy food and enjoyed a range of team building activities including morning walks around the reserve, a wellbeing session, creating artwork, playing Noongar bingo, singing and yarning by the log fire.   
Providing a healthy environment helps to heal body and mind. The Yorgas camp was such a beneficial experience for everyone that participated. A special thanks to Bush Heritage Australia for the use of Red Moore Reserve and to all the staff involved in making this camp such a success.