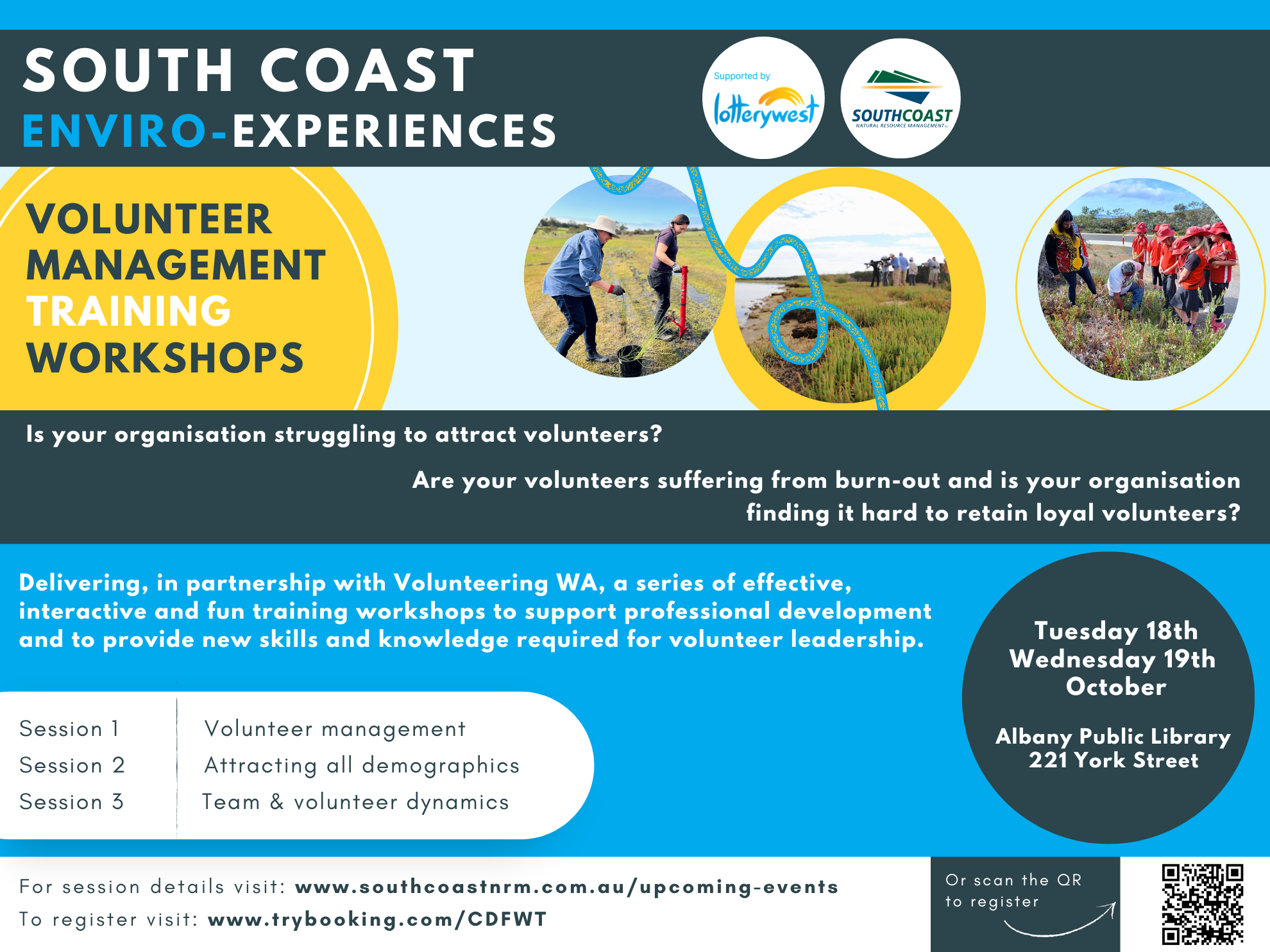 Is your organisation struggling to attract volunteers? Are your volunteers suffering from burn-out and your organisation finding it hard to retain your loyal volunteers?
Come along to our complimentary training sessions!
The South Coast Enviro-Experiences project, working in partnership with Volunteering WA, will be delivering a series of effective, interactive and fun training workshops to support professional development and to provide new skills and knowledge required for volunteer leadership.
TUESDAY 18TH OCTOBER
Session 1       5.00PM – 8.30PM
Key issues to volunteer management (includes building a solid foundation for volunteer programs, volunteer engagement, supporting volunteers through supervision and mentoring and evaluation and reviewing a volunteer program and a volunteer management plan.
WEDNESDAY 19TH OCTOBER
Session 2       9.00AM – 12.00PM
Attracting all demographics
Session 3       1.00PM – 4.00PM
Understanding team and volunteer dynamics (includes effective communication, inclusivity and diversity in volunteer management programs). Volunteer strategy and volunteer management plans.
Beverages and either a light supper or lunch will be provided.
For more information contact Catherine Johnston, South Coast Enviro-Experiences Project Officer, (p) 9845 8537 or (e) catherinej@southcoastnrm.com.au 
Register here or by emailing Catherine with your choice of session/s.
South Coast Enviro-Experiences is proudly supported by Lotterywest in partnership with South Coast Natural Resource Management.