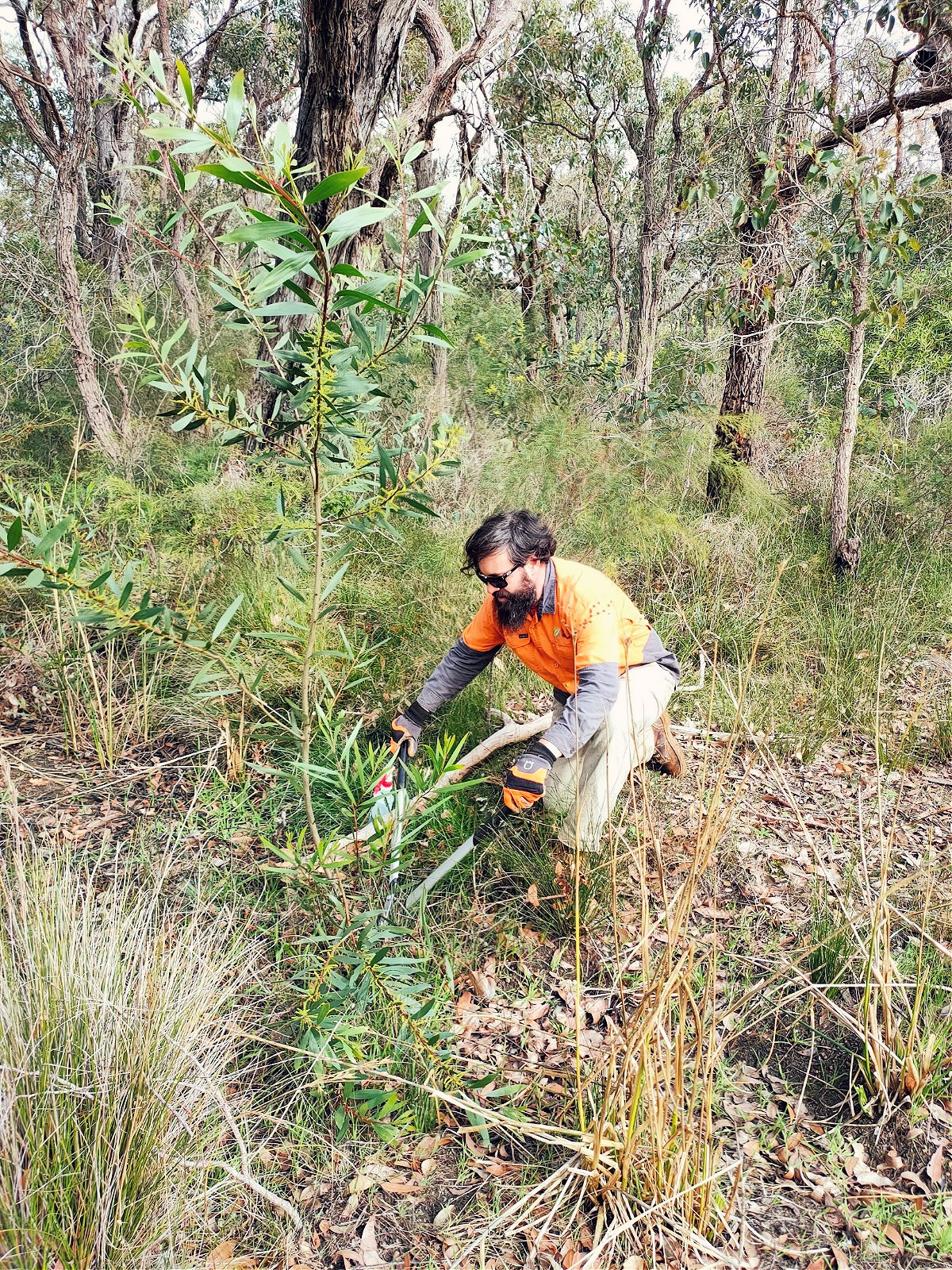 A joint effort between Binalup Rangers (a local Noongar enterprise), the City of Albany, Greenskills, Albany Heritage Reference Group Aboriginal Corporation (AHRGAC), and South Coast NRM has helped further the control of Sydney Golden Wattle, in and around the Ballogup property at Manypeaks.
Resolute staff and trainees braved the predicted rain and put in two full days of Sydney golden wattle removal, covering between 4 – 5 hectares and removing all wattles in sight!
The first focus area was the north and west side of the access track on City of Albany land closest to the AHRGAC property. Here the team all worked thoroughly on both sides of the track to remove all invasive wattles they could find in this heavily infested area.
Luckily the wet conditions made for slightly easier work, as weeds were removed by hand.
The second target area was along the South Coast Highway road verge, from the AHRGAC property to Manypeaks village, where trees of around 3 metres were removed by cut and swab.
Results of this work means that the north, south, and west sides of the AHRGAC property are now almost entirely free of Sydney golden wattle. A brilliant achievement by all involved! The whole area will receive follow up control in spring this year to guard against re-emergence.
This work builds on efforts by South Coast NRM, AHRGAC, the City of Albany and Greenskills to control the species in and around the AHRGAC property and the Manypeaks transfer station. Last year Green Skills completed 10 hectares of weed control adjacent to the waste transfer site and boundary of Ballogup.
South Coast NRM is grateful for the contribution of partner organisations in this project, and would like to acknowledge Lotterywest as a major supporter.
For more information about the "Restoring Lake Pleasant View" project, please contact Karl Hansom at (e) karlh@southcoastnrm.com.au or (p) 9845 8537
IMAGE 1. Greenskills' Basil Shur eradicating Sydney Golden Wattle CREDIT: South Coast NRM
IMAGE 2. Greenskills team at Ballogup removing Sydney Golden Wattle by hand CREDIT: South Coast NRM