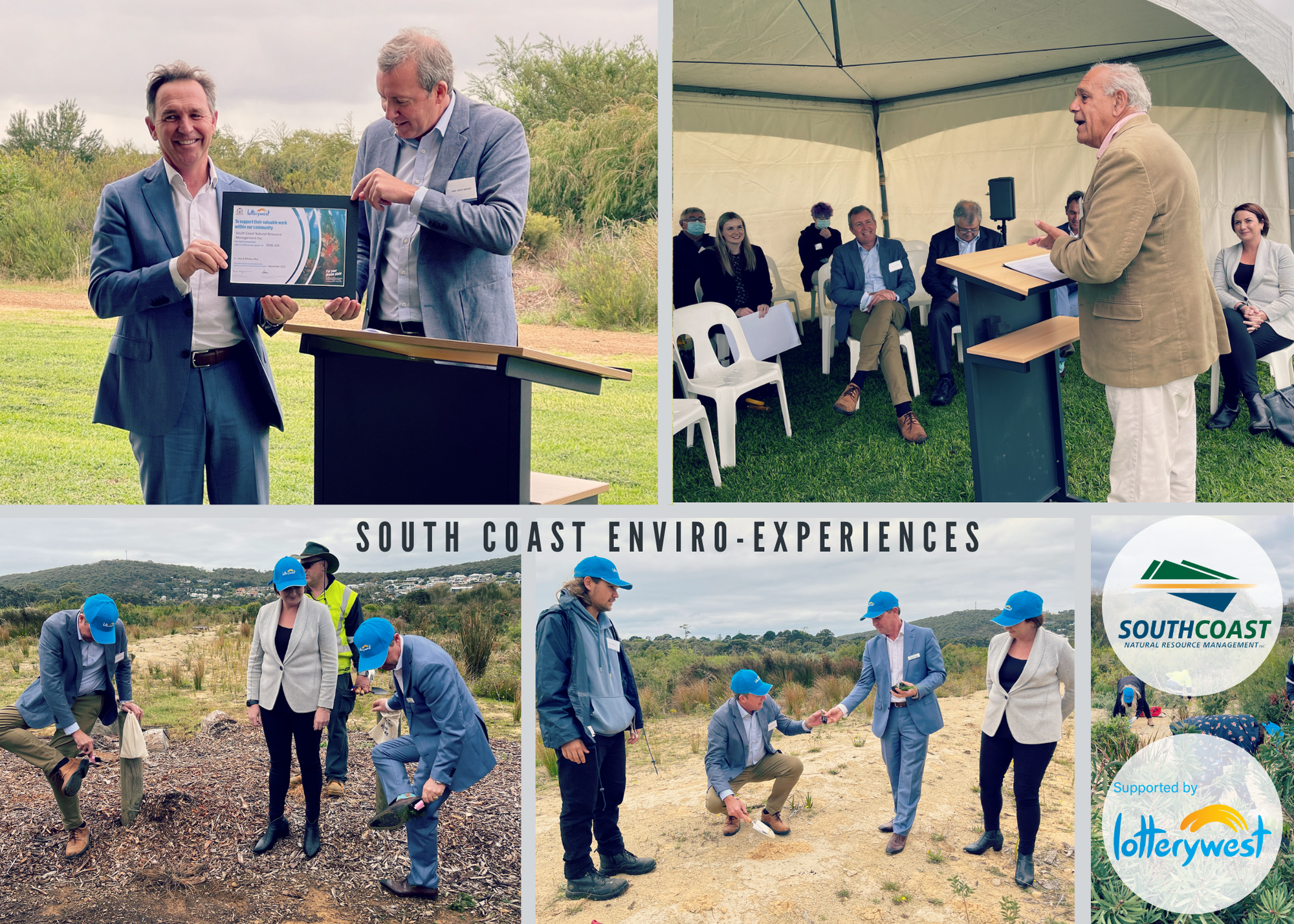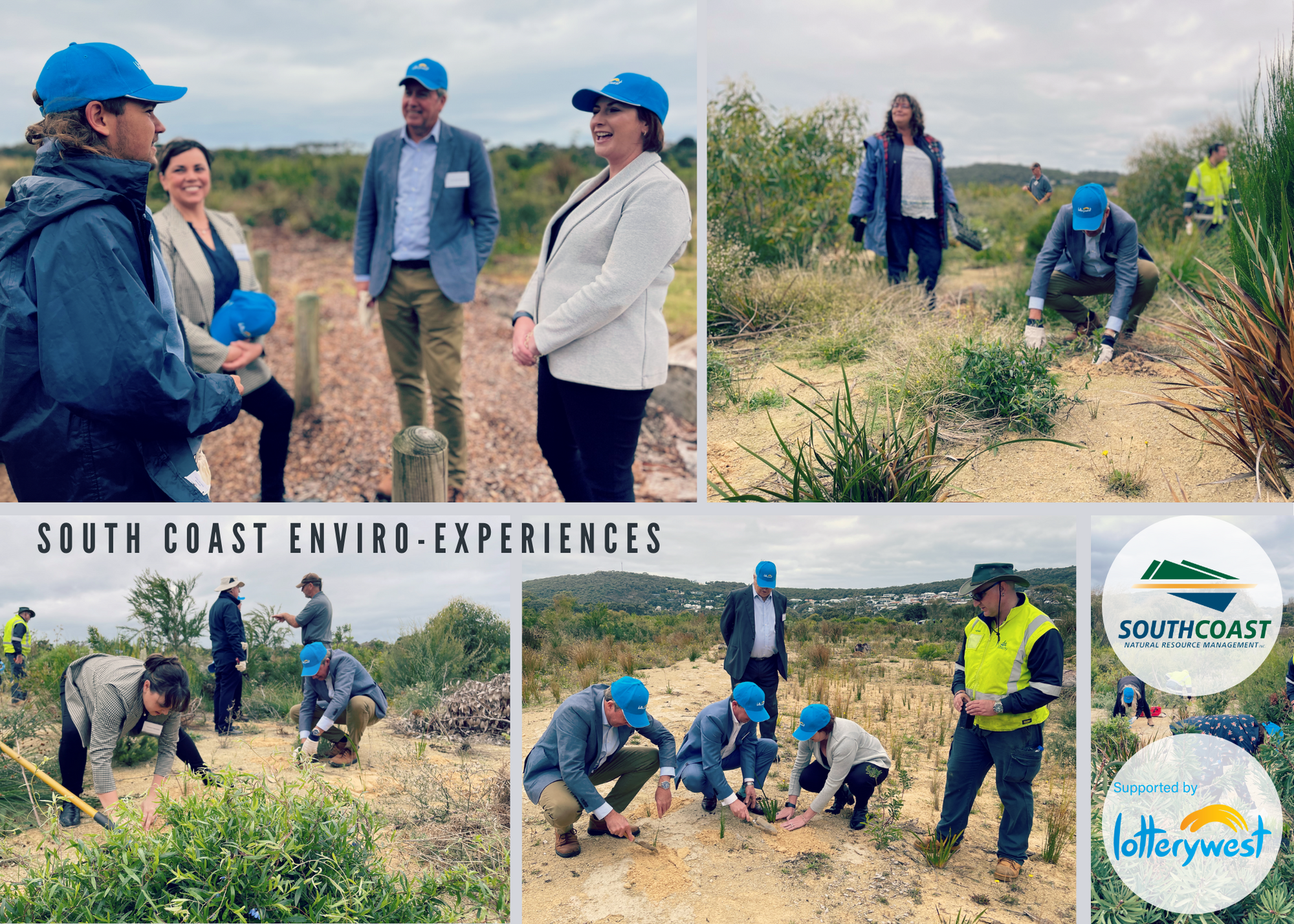 An exciting new partnership between South Coast Natural Resource Management and Lotterywest was launched on Wednesday 13th April, with funding set to shine a spotlight on environmental volunteering across the South Coast region. 
Lake Seppings, a location which has been abuzz with volunteers in the past few years, provided a stunning backdrop for the official launch of South Coast Enviro-Experiences. This new initiative will encourage volunteerism across the South Coast and increase the capacity of environment groups to grow and manage their volunteers. In turn, this will support the community to care for our natural heritage.
At the project's announcement, WA's Minister for Environment and Climate Change, Honourable Reece Whitby, acknowledged the significant ecological diversity of the South Coast environment, adding that "Volunteering is a key component of conserving native plants, animals and landscapes for our current and future generations. The intersect between volunteering and the environment is critical. When you give support to volunteering, the return you get for the community and our environment is massive".
Justin Bellanger agreed, saying "There is significant scope to link the excellent community-led projects that are maintaining and protecting our unique species here in the South Coast with different cohorts of volunteers that can contribute in different ways. We're looking forward to providing a complete solution that enables environmental organisations to access and manage more volunteers, whether that be for work done in the field, or the important jobs behind the scenes that allow these projects to happen."
The environment is a primary factor driving population growth and a sense of community, and COVID-19 restrictions, and recent climate change impacts have reinvigorated local interest. Through South Coast Enviro-Experiences, South Coast NRM will be facilitating increased hands-on experiences to protect and restore coastal, marine, woodland and river environments, and science-based activities to inform monitoring and research of threatened species.
Linking with the six Noongar seasons and supported by Volunteering WA and regional environment and volunteering groups, volunteering experiences will be matched to generational and cultural needs. Pop-up beach activities will engage families and young children during school holidays. Noongar Family Field Days will be hosted with Noongar families to share ecological knowledge and land management methods.
For more information about South Coast Enviro-Experiences, please contact Johanna Tomlinson on (p) 9845 8537 (e) johannat@southcoastnrm.com.au or visit our webpage.
IMAGE 1: from top left Justin Bellanger (CEO South Coast NRM), Hon. Reece Whitby (Minister for Environment and Climate Action),  Lester Coyne (Menang Noongar Elder and Chair South Coast NRM Aboriginal Reference Group), Rebecca Stephens (Member for Albany) and Steven McCleery (South Coast NRM Aboriginal School Based Trainee). CREDIT: South Coast NRM
IMAGE 2: from top left Steven McCleery, Johanna Tomlinson (COO South Coast NRM), Hon. Reece Whitby, Rebecca Stephens MP, Natalie Reeves (Project Officer South Coast NRM, Dennis Wellington (Mayor of Albany) CREDIT: South Coast NRM