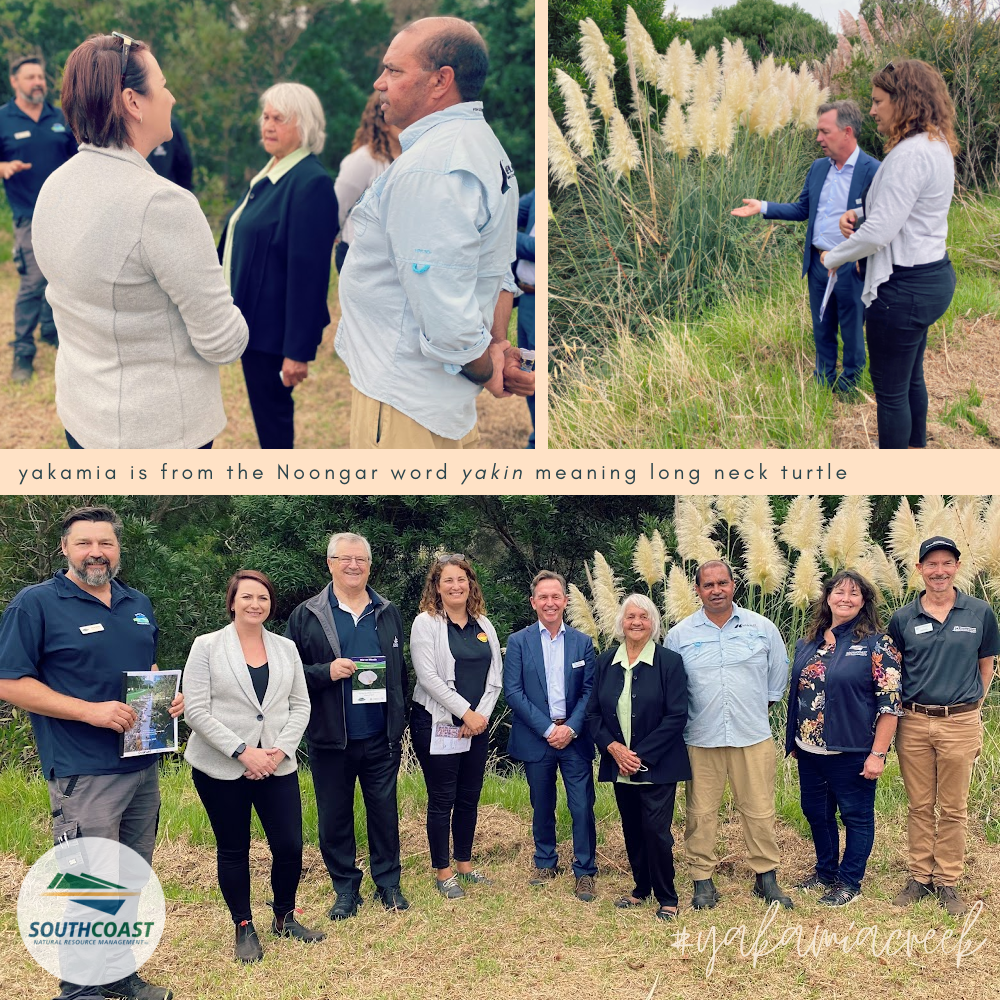 In an exciting first for the region, South Coast Natural Resource Management and the City of Albany are partnering with Minderoo Foundation, the South Coast Environment Fund, and the State Governments Healthy Estuaries program to repair a highly degraded, culturally significant section of Yakamia Creek.  
At the official launch of the Yakamia Creek project on Thursday 24th March, South Coast NRM's CEO Justin Bellanger praised the rehabilitation plans, saying "South Coast NRM is pleased to be able to coordinate this project with the City of Albany to continue the focus and improvements on Yakamia Creek".  
Minderoo Foundation's Director of Building Communities, Louise Olney, shared these sentiments, adding that "At Minderoo we know a healthy, accessible environment is integral to thriving communities. Yakamia Creek demonstrates that great outcomes can be achieved at a community level, through collaboration between government, philanthropy, and not-for-profit sectors." 
Formerly known as Yakinup, from the Noongar word yakin meaning long-necked tortoise, the current name Yakamia pays reference to home or mia in Noongar language. Yakamia Creek is a major stormwater drain, collecting much of the rain falling on the inner suburbs of Albany and discharging it into the ocean. The waterway has been impacted by modification and weed invasion for many decades but has been valued by Menang people for millennia.  
With significant restoration works already completed, Yakamia Creek is part of a broader initiative to transform degraded sections into a 'living stream', thereby enhancing the ecological function of the waterway and improving habitat for the Western Long Neck Turtle and other wildlife. The newly announced Yakamia Creek project aims to improve a section located behind the City of Albany offices, with weed removal and terracing on the top section of the bank to enable replanting and maintenance access.  
Healthy Estuaries WA's Coordinator at the Department of Water and Environmental Regulation, Jennifer Stritzke is excited to continue restoration works on Yakamia Creek, saying that "rehabilitation is vital to improving water quality, which will flow on to enhancing ecology and values". 
"People can get involved and help make a difference at this site and others along Yakamia Creek, Albany's living stream," added Jacqui Freeman, City of Albany's Manger City Reserves.  
For more information about the 'Yakamia Creek project', contact Natalie Reeves on 9845 8537 or natalier@southcoastnrm.com.au or visit www.southcoastnrm.com.au