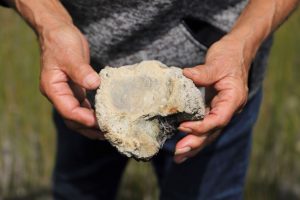 "This is medicine, this is…..," Larry Blight says as he crouches on the lakebed at Ballogup/Lake Pleasant View levering a rock out of the cracked clay. Larry joined ethno-archaeologist Paul Greenfeld and Menang-Noongar Elders at the lake near Manypeaks east of Albany last week for a heritage survey which flipped their understanding of the cultural meeting place on its head.
Carrying lumps of limestone studded with marine fossils back to the granite outcrop where the Menang people have gathered for thousands of years, Larry cracks the rocks open to reveal glimmers of chert – a harder stone that forms sharp edges when cut – used to make stone axes and knives.
The tracks around Ballogup/Lake Pleasant View are littered with stone tools and rock scatter; shards of chert pointing to a long history of tool making at the freshwater lake.
Until last week archeologists thought stone for the tools was most likely quarried on the lake's eastern shore. But a chance wander across the dried lakebed, its sedges thinned out after a fire burnt through last summer, revealed lumps of rock rising out of the mud that told a different story.
Paul now believes that Ballogup's main quarry was in the lake itself, when water levels were lower than they are today. He thinks Ballogup was an important wayfaring point for people travelling between Albany and Esperance – somewhere they could get food and fresh water and replenish their tools, sheltered from the easterly winds by the granite.
"We have found evidence of Menang-Noongar people being here going back three thousand years, and probably much longer," he says.
The stone tools uncovered by young Menang people, Elders and Nowanup Boodja rangers will remain on country, where Ballogup's traditional custodians are continuing to meet and teach the next generation. Sometimes these artefacts are hidden in plain sight – you just need to know how to look.
Lotterywest is a major supporter of Restoring Noongar Boodja.