National science week 2018
October 24, 2018

-

October 31, 2018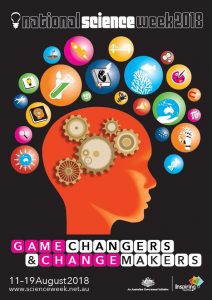 SCIENCE WEEK 2018
The school theme for National Science Week in 2018 is Game Changers and Change Makers. This could refer to individuals, teams, technologies or ideas – what does it suggest to you?
In developing the theme and the teaching resource book we took inspiration from three significant celebrations in 2018:
200th anniversary of the publication of Mary Shelley's Frankenstein (genetic engineering, biotechnologies, prosthetics, bionics, genetic modification, brain enhancement and ethics);40th anniversary of the birth of the first IVF baby (genetic engineering, biotechnology, nanotechnology);International Year of the Reef (coral reefs and the scientists who study them).
Website
https://cloud.3dissue.com/1639/2126/211945/GameChangersandChangeMakers2018/index.html